How it works
You order
Customize your menu from 10-12 of our delicious entrees each week. Select weekly subscription or 1-time order. Each Monday, you'll be able to select your meals or skip the delivery via text message.

We Cook & Deliver
Our trained chefs will craft your personalized menu. We pack them carefully to maintain freshness and deliver them right to your door.
Enjoy Mealtime Again
No shopping, cooking or cleaning saves you time for the things that you love! Meals reheat easily in a microwave or conventional oven.
Meals start at $9.99
Our menu rotates weekly, so you can customize your meal selections each week or skip each week via text message. No account to manage.
Select your meals
Nourish Your Life
No shopping, prep or
clean up
10-12 new meal selections each week
Simply reheat in
microwave or oven
Nutritionally- balanced
Save $ with a weekly subscription, or order 1 time
Lunch, Dinner, Family meals and healthy snacks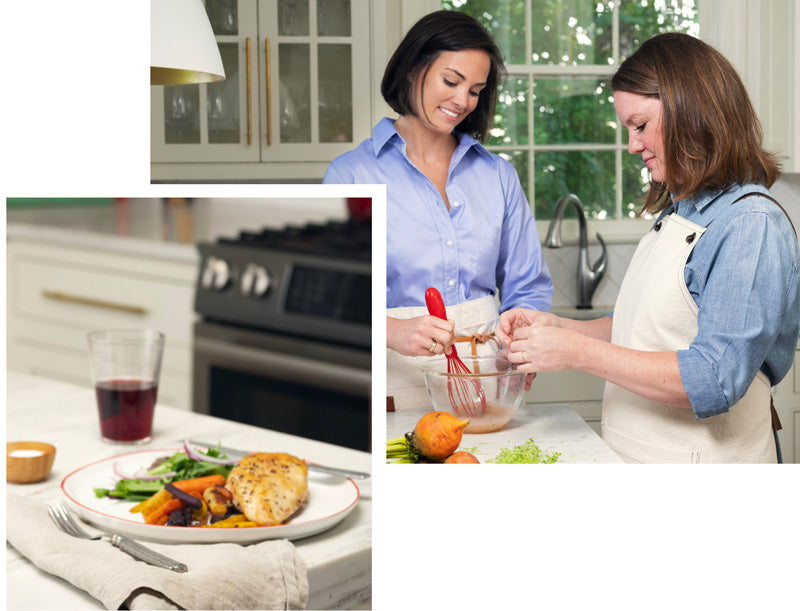 The Story
of Nourish Foods
Our founders, Mary Drennen and Tiffany Vickers Davis, are two chefs who wanted and saw a need for healthy, fresh, creative, direct-to-customer food choices. Both from Southern towns, famous for food, they were raised with a love to cook and eat.
After both married, had kids, jobs, and life got BUSY, they knew that others needed a solution for healthy, prepared, convenient meals. Thus Nourish was born.
WATCH VIDEO
What people say
"I just want to share that the food is amazing. I love to cook and come from a long line of amazing cooks in my family. With work and young children it gets tough and eating at home around the table is important to me. This meal help, knowing it is healthy and well sourced and delicious is a blessing. Thank you!"
I signed up for this service. As promised, my lunch and dinners arrived today. It was awesome. I live alone and this service fits my needs more than I could have hoped for. I have tried a couple of the other companies, but you have to prepare their meals. and I didn't really care for their menu choices. Give Nourish a 5 star.
"I want to congratulate you guys on doing such a great job at nourish! I have been receiving meals for four years and am noticing a consistency in the food and the quality and creativity. I am amazed at what you can put into a plastic box that tastes so good! I just wanted to say, keep up the good work!!! and thank you!!!!"
Have questions? We love to hear from you!